Solar road studs are very common in today's life, whether on the road or in a private garden, you can see that in our daily life, many customers ask how to install
solar cat eyes road studs
, in today's article , I will introduce the methods to installing embedded solar cat eyes.
It is important to install the solar studs correctly to ensure the optimum viewing angle by motorists.
1. Tools and safety equipment: Surveyors measuring wheel & marker, Core drill machine, core drill bits, Electric breaker drill or hammer and chisel. wet and dry vacuum, Fixative, white spirit and lint free cloth, glue (Epoxy glue and resin glue mixed 1:1), high visibility jackets & trousers, safety shose, gloves, goggles/ safety glasses, ear defenders.
2. Suitable traffic management must be set up to ensure safety.
3. Installation of the embedded solar cat eyes road stud is split into 4 main tasks:
a.
Preparation & hole drilling
: Marking out thepositions for studs to be placed as detailed in the scope of works and site drawings. Drill a circular hole with a core cutter that produces a flat bottomed cavity with perpendicular sides. Ensure the working area is kept clean.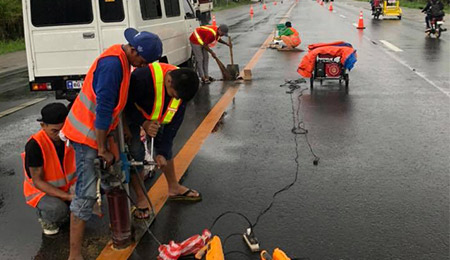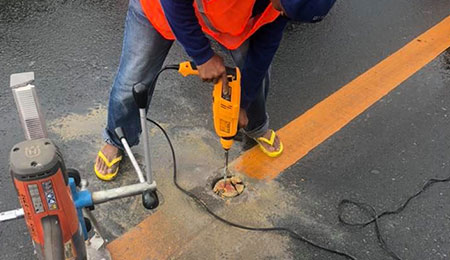 b.
Removing the core:
Remove the center of the core from the cut to expose the cavity. If necessary trim the bottom of hole flat.
c.
Removing the debris
: Remove all debris forom the cavity, preferably via wet/ dry air or vaccum removal. Ensure all cavities are clean, dry and free from dust and debris prior to installation. If any cavity show signs of moisture this must be removed.
d.
Placing the solar road stud & applying the fixative
: The
solar road stud
housing must be clean and dry to provide a good bonding surface for the resins and sealants. Ensure that solar cats eyes are positioned, ready to install as fixative can cure quickly. Fixative should be poured to a level of 2/3 from the road surface. Insert the solar road stud into the cavity. Make sure the LEDs are correctly facing oncoming traffic.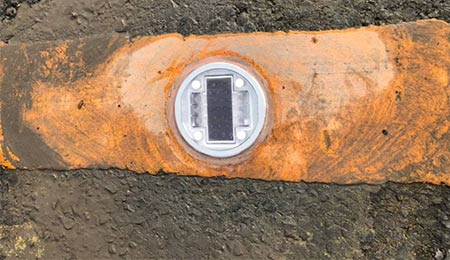 Ensure the solar cat eyes is flush with the road surface. Allow a minimum of 30 minutes to cure, enaure the lens remains clean at all times. Clean the site after installation and romove all debris from carriageway.