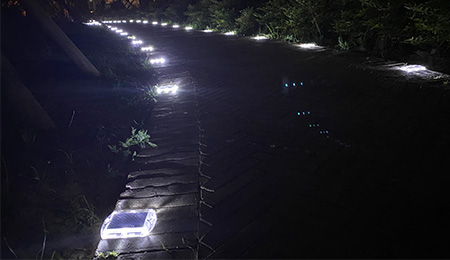 Imagine walking in the park after a meal, the road under your feet is illuminated by the lights on both sides, and you will not be careful beacuse you can't see the road under your feet. What a wonderful thing it should be, yes, such a beautiful thing has been achieved . Some customers have installed RUICHEN's ultra-thin solar cat eyes road studs in the park.
These solar cat eyes road studs can illuminate the road without the power grid. Each solar road stud contains its own solar collector and LED lights, as well as a microprocessor that manages the power supply, so that two hours of sunshine can give them enough energy to illuminate for ten days. As a result, even in severe weather, road visibility can be advanced by one kilometer, which is ten times higher than the distance that the headlights can reach the reflector. There are five colors of solar cats eyes: yellow, white, red, green and blue.
This solar cats eyes road stud was originally designed for bicycle lanes, because ordinary raised solar road studs generally have a height of 25 mm on the ground, so that pedestrians or bicycles will feel bumpy when passing. The thickness of this
ultra-thin solar cats eyes road stud
designed by RUICHEN is only 11mm, which is very friendly to bicycle wheels. The larger solar panel design greatly improves its charging efficiency. Due to the transparent shell design of this solar cat eyes and the luminous LED beads, it becomes particularly beautiful at night.
Therefore, we have many customers who purchase this
solar cats eyes road stud
and apply it in public places such as parks, gardens, narrow bridges, and docks for decoration and lighting. This ultra-thin solar cats eyes road stud is installed in the United States, Brazil, South Korea, Mexico and other places.
Let's take a look at the performance parameters of this solar cats eyes road stud again!
Material:
PC(Japan Brand)
Power supply:
USA Brand Flexible High Efficient Solar Panel 5V/60MA
Battery:
Lithium battery 3.2V/500MA
Working model:
Blinking or Constant
Charging at daytime and working automatically at night
Life span:
5 years for lithium battery;
LED colors:
Yellow, White, Red, Green, Blue
Resistance:
20T(static)
Size:
114*90*11mm
Visual distance:
>800M
Water poof:
IP68
Carton Size:
2pcs/box;100pcs/ctn;weight:14.5kg;carton size:48*27*21.5cm