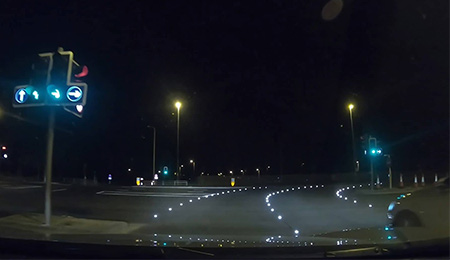 We often find that some drivers start to drift between lanes when they pass the intersection, which not only affects the passage of other vehicles, but also threatens their own driving safety. The new solar smart road stud are used to guide driver and help them maintain a good lane in a good way, thus avoiding the risk of collision.
The Highway Authority of England installed 175 airport runway-style solar road stud cat eyes as early as 2018 to help mark the lanes of one of England's busiest freeway junctions and help drivers maintain the correct lanes and reduce vehicle traffic. and help revent vehicles drifting between lanes, more than 90,000 vehicles use these lanes marked by
solar cat eyes
every day.
Cables under the road connect the solar smart road stud to the traffic lights through a nearby controller. When the traffic lights turn green, solar road stud cat eyes will turn on automatically. The new solar cat eyes can be seen up to 900 meters away, much larger than traditional reflective studs, and has been proven to help prevent drivers from drifting between lanes, thereby reducing the risk of collisions.
To be installed in the middle of the road, there is a risk of being crushed by the vehicles, so the pressure resistance of these
solar road stud cat eyes
is relatively high. RUICHEN Ttaffic has a suitable solar cat eye, which can reach more than 40 tons. Use new technology to connect the solar smart road stud to the red traffic light, which can achieve the function of synchronizing with the traffic light. At present, this solar smart road stud has been used on the zebra crossing in Zhejiang, China. It flashes to warn vehicles to slow down and pay attention to pedestrians.