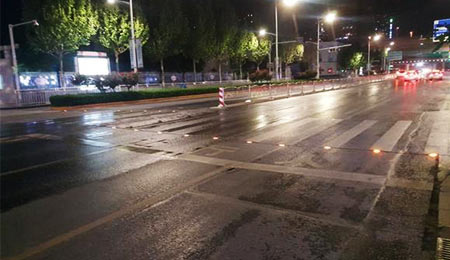 When night coming, when you step on the zebra crossing,the solar road studs under your feet will cast a shining red light, "guarding" the pedestrians safely through the zebra crossing. It turned out that the pedestrian crossing thermal induction system was installed on the zebra crossing here to remind motor vehicles to slow down before the zebra crossing.
On April 23, a reporter from Dahe Network learned from the Zhengzhou Traffic Police Detachment that where there are no conditions to install signal lights and where were densely located in government agencies, primary and secondary schools, hospitals, parks, markets and residential communities along the route. A smart intersection system with
solar stud lights
was installed.
According to the relevant person in charge of Zhengzhou Traffic Police Detachment, the smart intersection system is mainly composed of infrared pedestrian detectors, flashing warning
solar road stud lights
, and improperly allowed pedestrians to capture equipment.
"When the system detects pedestrians and non-motor vehicles crossing the road, the video detection will pass the signal to the flashing solar road stud lights through the control system, forming a red warning light strip to remind the vehicle to actively give courtesy to pedestrians." For vehicles that have not avoided pedestrians passing through the zebra crossing, the induction system will activate the aerial video probe for video recording and forensics, and punish illegal vehicles based on the evidence.
"Before, there were only zebra crossings and no traffic lights. There were so many cars passing by, and they drove so fast that every time they crossed the road, they were scared. Since we installed the solar road stud lights that automatically sense pedestrians, we feel much safer." "Said Mr. Li.