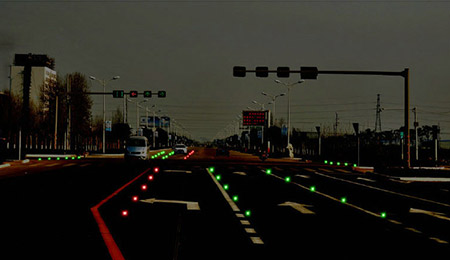 As drivers, we tend to ignore the "cat's eyes" until the road encounters bad weather or on unfamiliar roads at night, and road studs show us the safety of the road ahead as a matter of urgency. Standard cats eyes road stud rely on lighting close to the vehicle's headlight beam and are effective up to 90 meters away. This situation is greatly improved by using solar power to create independent, self-powered lighting equipment.
Solar powered cats eyes use stored solar energy to operate built-in light-emitting diodes (LEDs), providing effective guidance to drivers. At a speed of 900 miles per hour, when traveling at a speed of 60 miles per hour, the reaction time is extended from 3.2 seconds to more than 30 seconds.Solar powered cats eyes road stud are automatically activated from dusk to dawn, and they also integrate conventional mirrors to provide a road profile during the day.
In some areas, since the installation of solar powered cats eyes road stud, many local authorities have reported that the incidence of nighttime accidents has decreased by more than 70%. Research conducted by the Transportation Research Laboratory has shown that when using solar cats eyes, drivers will be brake faster, and unlikely to cross the white line in the center of the road or across the lane on a two-lane lane, the safety advantages of solar powered cats eyes also extend to cyclists and motorcyclists.
When considering the relative service life of the solar powered cats eyes road stud, Ruichen Traffic's solar road studs use improved solar panels and light-emitting diode (LED) technology to keep the cost at a level comparable to traditional cats eyes road studs (The service life of RUICHEN Traffic solar cats eyes is 5 years, while the service life of traditional reflective studs is 1 to 2 years).